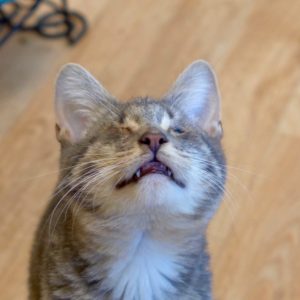 House of Broken Cookies is a volunteer organization that rescues and rehabilitates kittens with an emphasis on those with special needs. We consider all our kittens/cats to be special and unique, but some have the added need for special care because of physical and/or neurological trauma, illness, and congenital abnormalities or deformities. We also rescue bottle babies that are struggling to survive. Lovingly, we call our rescue kitties "Broken Cookies".
We rescue from local city and county shelters but our goal is to work within the community and rescue those that we can before they enter the shelters. Our team puts a strong emphasis on educating the community about kittens/cats with special needs so that they will be better understood and have the opportunity at a happy life in homes of their own.
We foster all these cute kitty cookies in our homes where they are able to thrive and we can better understand their needs. Each will remain in foster care until they find their forever home. Some will be with us longer on their journey and they will receive care, love, and understanding for as long as they are with us.
House of Broken Cookies was founded because some very special kittens we have cared for whom are no longer with us but touched our lives forever. It is in their honor that we continue our work to restore as many "Broken Cookies" to wholeness as possible. After all, a "Broken Cookie" is just as precious as a whole one.
EDUCATION