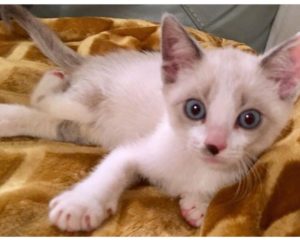 We would like to introduce you to one of our recent rescues. This is Lt Dan.😸 He is a very handsome kitten but he is also a very special kitten.
We received an email from another rescue asking if we could help this little guy. Lt Dan has a congenital deformity involving his back legs. They are essentially backwards past his knees and he is also missing essential bones. However, we have seen some amazing changes in this little man since he joined us. His left leg use to be completely backwards just like the right one but is now facing forward!
He is cute, funny and very lovable. He'll need surgery when he's older but for now he is a kitten just like the others who loves to play. He's a pretty amazing kitten. A real lady's man and quite the talker.
He does need some special assistance but gets around very well. We hope you'll keep an eye on this amazing kitten.
We would like to introduce you to one of our recent rescues. This is Lt Dan.😸 He is a very handsome kitten but he is also a very special kitten. We received an email from another rescue asking if we could help this little guy. Lt Dan has a congenital deformity involving his back legs. They are essentially backwards past his knees and he is also missing essential bones. However, we have seen some amazing changes in this little man since he joined us. His left leg use to be completely backwards just like the right one but is now facing forward! He is cute, funny and very lovable. He'll need surgery when he's older but for now he is a kitten just like the others who loves to play. He's a pretty amazing kitten. A real lady's man and quite the talker. He does need some special assistance but gets around very well. We hope you'll keep an eye on this amazing kitten. #houseofbrokencookies #theamazingltdan #specialneedskitten#specialneeds#brokenonesarethebestones #congenitalanomalies #siameserescuekitten #backyardrescue

Posted by House of Broken Cookies on Wednesday, August 15, 2018